Meet Dr. Andy Nette
Discovering Dentistry At An Early Age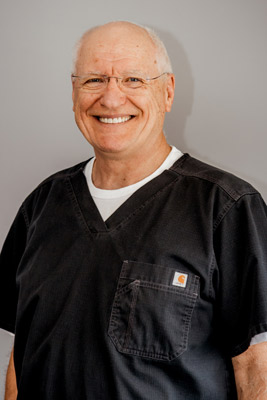 At age 11 Dr. Nette mentioned to his dentist that he'd like to be a dentist, and was promptly invited to stay in the operatory to observe Dr. Bury work on his younger sister, whose appointment followed his. Right then and there, Dr. Nette knew this was the career for him. After more than 40 years, Dr. Andy's passion for dentistry continues to grow!
Honing His Craft
Dr. Nette attended the renowned Dalhousie University for Dental School, where his love for the field continued to grow—so much so that he earned a Gold Medal from the University for his continuously high marks as a student. After graduating in 1976, he embarked on his mission to help patients of all ages feel better about their smile.
Dr. Nette is a current member of the Nova Scotia Dental Association as well as the Canadian Dental Association. Over the course of his expansive career, he has been invited to join several honor societies. For the past 25 years, he's remained a professor one day a week at Dalhousie University where he's able to pass along his knowledge and enthusiasm to future dentists.
Creating Lasting Relationships
If you asked Dr. Nette, he'd tell you that one of the most rewarding aspects of being a dentist is creating lasting relationships with his patients—some of which have spanned his entire career. Dr. Nette is proud to have treated entire generations of families—some of whom are now bringing their fourth generation members in for care with SeaPort Dental.
Outside of the Practice
When he isn't crafting beautiful smiles for patients, Dr. Nette enjoys spending time with his wife of 44 years, Linda, their four daughters and seven grandchildren. He is also an avid bicycle rider, tennis player, gardener and can be found snowboarding, cross country skiing and woodworking during the winter months.
Get to know more about Dr. Nette when you book your appointment with us. We look forward to meeting you!
---
Dentist Port Williams | (902) 697-3000