Meet Dr. Alison Nette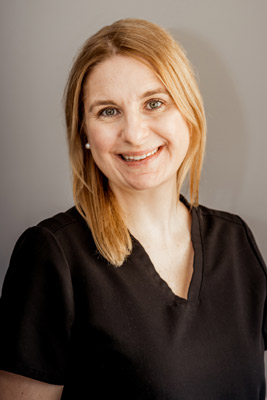 For Dr. Nette, dentistry is a family affair. Her father, Dr. Andy Nette, has been a dentist for many years. "My father is my biggest inspiration. He has always been so passionate about the profession and so enthusiastic about his work in general." His commitment to his patients has made a tremendous impact on her.
Caring for People of All Ages
Dr. Nette and her father have similar personalities. After earning an undergraduate degree in an unrelated field, she wondered if she could enjoy dentistry as much as he did. "I also realized that I liked working with people of all ages, one on one, over time." She spent a lot of time observing her father at work and seeing how committed he was to getting his patients out of pain and taking care of them. Dr. Nette knew then that dentistry was for her.
Discovering the Rewards of Patient Interaction
As her father and grandfather both graduated from Dalhousie University in Halifax, Dr. Nette decided to follow in their footsteps and earn her dental degree there in 2012. She also was drawn to the fact that the school had an excellent program with superb instructors and was strong clinically. "During my clinical time, I found it rewarding to interact with patients and take them from treatment planning to completion of care." Dr. Nette found it gratifying to give them a fresh start by restoring their oral health.
Continuing Education and Dental Memberships
To stay abreast of the latest in dentistry, Dr. Nette has taken numerous continuing education courses. She also belongs to the following associations:
Annapolis Valley Dental Association
Before moving back to this area where she and her husband grew up, Alison practiced in Whitehorse, Yukon for four and a half years. While in Whitehorse, she was a member of the Yukon Dental Association and served as Treasurer.
Staying Active in Port Williams
When she's not at the practice, Dr. Nette and her husband, Richard, love spending time with their two young daughters as well as friends and extended family. Two dogs round out their family. "We love being outside hiking, walking the trails along the dykes, skiing, both cross-country and downhill, and skating." The family also enjoys spending time at their cottage and going to the local farm markets. Dr. Nette's other hobbies include yoga, knitting, reading, traveling and cooking. Experience gentle dental care with Dr. Nette. Book an appointment today!

Dentist Port Williams | (902) 697-3000