About Us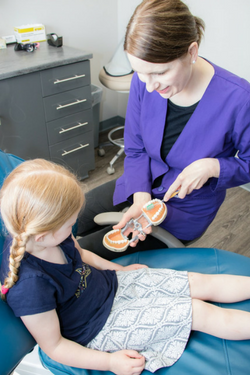 Growing up in our beautiful maritime province, Dr. Alison Nette chose the practice's name due to its proximity to the water here in Port Williams. Before opening the practice, she worked in Whitehorse, Yukon for four and a half years. While Dr. Nette and her husband Richard enjoyed exploring the beautiful wilderness of the Yukon, they were eager to return to Nova Scotia to be closer to family and friends. Dr. Nette is passionate about providing exceptional dental care to those in the Port Williams, New Minas, Wolfville, and surrounding communities. Likeable and approachable, she finds it fulfilling to work with patients of all ages, particularly children.
Making Patients the Top Priority
Our primary goal at the practice is to ensure that every patient feels completely comfortable and at home. You and your family are our top priority, and we will make you feel like a member of our family every time you walk into our warm and friendly practice. Our dentists, Drs. Alison Nette and Andy Nette, are highly knowledgeable and skillful so you can be assured that you'll receive the superb care you need and deserve. Our kind and personable approach puts patients at ease.
Providing Care You Can Trust
At SeaPort Dental, we will always communicate with honesty and openness, and conduct ourselves with integrity. We take the time to get to know every patient. You'll never be a number here. Dr. Alison and Andy Nette are committed to providing the highest levels of care and will always stand behind their work.
Offering a Spectrum of Services
It's our aim to provide quality, state-of-the-art dental care in one convenient location. At our general family practice, we can take care of most dental needs in-house. These range from preventative checkups to emergency care to dentures and implants (placement and restoring) and much more.
Improving the Oral Health of Area Residents
Helping patients achieve healthy, beautiful smiles and optimal oral health motivates us each day. We love to help patients achieve and maintain oral health for a lifetime.
Book an appointment today with our friendly dentists! Same-day emergency appointments are available. We also offer Dentalcard financing and accept insurance.

About SeaPort Dental | (902) 697-3000